Post by ALIYAH MARIE PETERS on May 27, 2010 1:44:55 GMT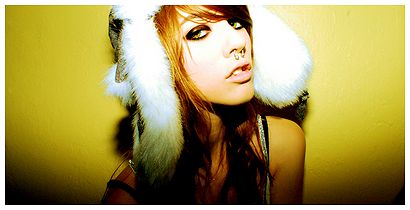 Ah Stanfield,Stanfield,Stanfield. What could Ali say about this place other then there were a lot of crazy people here. Being here she was actually kind of scared. It was almsot like being back in Flint, Michigan. Cozy little neighboor hood but there were some really bad people. It was all bad just it scared her sometimes to know that so many bad things had happened there. She was relieved when her parents talked him out of it. It was the smae with this place though. It wasn't really that bad here except for the people. There were probably dozens of murderers, rapists, stalkers, the weirdos who live on street corners, etc. Aliyah rummaged through her closet finding her old clubbing dress that she had recieved as a birthday gift last year from her friend Cassie. Lea had probably only had wore it once since she has had it. With all the problems in her family she rarely ever had time to go out at home. She had been here at Stanfield for only two weeks or so and they were finally going to let her out for a little bit. She felt like some twisted version of Cinderella since they gave her a curfew. But curfews were meant to be broken, she's a teenage of course she's not going to listen. She threw on the dress and the brunette quickly finished making her hair wavy. She put a silver septum ring in and grabbed a pair of stilletos. There usually wasn't a time she was caught not wearing them. They were her favorite type of shoe and the only time she didn't wear them is if her feet got really sore and she had to walk long distances. Even then she'd still bring her stilettos just in case she felt okay enough to walk in them again. She grabbed a random pair of earrings, adjusted her dress while looking at herself in the mirror then quickly skimpered out the door.

She walked around town for a little while before she was going clubbing. It was nice out. Not too hot or anything but just warm enough she was happy she wore a short dress. Aliyah tugged at the bottom of her dress that seemed to just barely cover her small thighs. It was black with a wide cleavage opening. Her breasts seemed to bust out almost since she couldn't actually wear a bra with the dress because it was so padded. Her stilettos clicked against the pavement as she walked.Lea looked aorund to make sure nobody was watching her as she walked down the alley. She wasn't in the mood to be caught by the Stanfield staff buying drugs. She looked around for a few minutes and waited. She knew someone would show up here. i mean this was the kind of place. It was dark and gloomy like a scene from a cheesy horror flick. "" Ok seriously I know someone's here." She rolled her eyes as she spoke sarcastically to the darkness. She could have swore she was at the right place. But may be Cassie did give her the wrong adress. Cassie had a habit of doing things like that. Wether it was people or adresses she always seemed to mix thigns up which usually made Lea all confused. She wasn't technically the brightest crayon in the box. Ali was bright. Just when she wanted to be though. She sighed as she leaned against the wall. Her heel clicked as she rested her foot on the ground.Aliyah was use to being stood up. Cassie probably did get the adress wrong or soemthing along those lines. She sighed as she stood there. She pulled out a cigarette and took a few puffs of it before looking around.



STATUS # Finished
FEATURING # Mia baby <33
Six hundred and fourty five
OUTFIT#
click
NOTES # Sorry it took me so long to write this. i've been kind of busy. So take your time replying if you need it

CREDIT #
IRONICALLIZE_IT @ CAUTION 2.0