Post by ZACARIAS MONTAGUE on May 8, 2010 1:53:34 GMT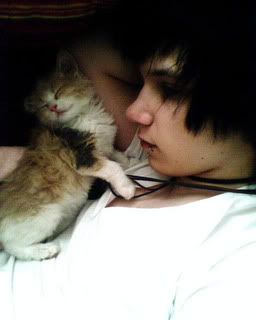 Z E E
It'd been a fit of rage that had made him run. He'd become so angry it hurt, and he didn't know what had triggered it. His violent psychotic episode. All he remembered was that one minute he was sat in the computer suite at Stanfield and next a computer was threw a window and he was running. His rages, sometimes he remembered them, sometimes he didn't. It was getting dark now as he ran, his eyes fixed blankly ahead of him. He tried to remain on te right side of the road so the cars were always to his left. He didn't want to die after all.

Zacarias slowly stumbled to a stop, his hand pressed against a brick wall as he panted for air, this being the only time he'd stopped since he began running. It was tiring to say the least, he could hardly breath. Part of him feared the lack of oxygen going to his brain would cause a seizure. Turning he pressed his back against the wall, taking deep breathes as he stood, trying to even out his breathing. Eventually it worked and he lowered himself to sit on the ground. He din't seem to care that he was sat in a dark alleyway.

He didn't even seem to care that it was gradually darkening as the hour shifted from seven to eight in the evening. His electric blue eyes flickered around, making sure no one else was here. He wasn't much keen on being near druggies. Especially if no one else knew where he was. He yawned a little as he hugged his knees to his chest. He wished, right now, that he could see out of his right eye, but after snapping the nerve he was lucky the eye was still attatched really, so the young popular would have to do without.

"If it wasn't for my meds, I'd have Azul to keep me company." he sighed to himself before slipping his harmonica out of his pocket. For a moment he fiddled with the small silver instrument before he placed it against his lips and blew softly into it. The note wavered. Zee rolled his eyes before holding the harmonica at both ends as he blew into it, beginning to play a simple tune he'd taught himself not that long ago now. After all, it wasn't that hard to play, not if you were able to tell the note you were blowing.
[/blockquote][/blockquote][/blockquote]
just so you know, i wrote this using not many words. but, that might not interest you. however, the fact that zacarias montague is wearing this might interest you. however, this piece isn't for just anyone. this crappy post right here is for pilot shields to come to theback alleys and befriend a rather sad zee. in the mean time, i'm off to continue listening to it's over and forever or never by cinema bizarre. oh, and just so you know, cookies made this shit so if you steal it keep this credit sentence on please <3